Human Modification of the World's Ecoregions
Only 30% of the world's ecoregions are in a low degree of modification. Most ecoregions (52%) are moderately modified, and 19% is highly modified (see map below). Alarmingly, 50% of ecoregions retain ≤ 10% of low modified lands and 30% of ecoregions retain ≤ 1% of low modified lands. Based on the IUCN Red List of Ecoregions criteria, 57% of ecoregions can be classified as Critically Endangered and 14% of ecoregions as Endangered.
Ecoregions define geographically distinct assemblages of species and natural communities within biomes, and are considered ecosystems of regional extent. See below for descriptions of low, moderately, and highly modified ecoregions.
Human modification of the world's terrestrial ecoregions (based on the average score). Green indicates ecoregions in low modification (0.00 < HM ≤ 0.10), yellow in moderate modification (0.10 < HM ≤ 0.40), and red in high modification (0.40 < HM ≤ 1.00). Click on a map location for detailed statistics of land modification for ecoregions.
Low modified regions
Only 30% of low modified ecoregions retain most of their natural lands (on average 83%), which are distant (~35 km away) from human settlements, agriculture, and other modified environments. These are vital regions where biodiversity and habitats are likely to remain intact and support regional-scale ecosystem services, such as climate regulation, carbon sequestration, and water provisioning. Encouragingly, all biomes retain some low modified ecoregions, but four biomes (tropical dry broadleaf forests, mangroves, tropical coniferous forests, and grasslands) have only 1 to 3 low modified ecoregions that remain.
TNC works in low modified landscapes to set-aside large expanses of natural lands to protect species and habitats before they become lost and degraded by development. For example, within Mongolia's Eastern Steppe, the world's largest intact temperate grassland, TNC developed regional conservation plans that mapped important areas to avoid conversion from increasing mining exploration, which led to the designation of 158,000 km2 of new protected areas.
Aerial view of the Mongolian steppes which comprise the largest expanse of unspoiled grassland in the world. Photo credit: ©Joe Kiesecker
Moderately modified regions
Most of the world is in a state of intermediate modification, with 52% of ecoregions moderately modified. These regions are highly fragmented with remnant habitats interspersed among competing human land uses. Moderately modified ecoregions retain up to only 50% of natural lands and fall within critical land use thresholds, thus, warrant timely conservation attention. These regions require multi-objective spatial planning and optimal habitat protection and restoration strategies to help maintain critical levels of habitat amount and habitat configurations that sustain biodiversity and ecosystem service provisioning. These are also regions where it's important to direct science research to improve our knowledge on the cumulative impact of different types of development and their interactions, and the levels that may push natural systems over ecological thresholds or tipping points.
TNC advances strategic land use planning in moderately modified landscapes to better balance development with conservation. For example, TNC works in the Brazilian Cerrado, one of the world's most diverse tropical savannah, but it has lost more than 50% of its area with on-going pressure from soy and pasture expansion. Within this region, TNC with Dow Chemical Company produced science analyses and prioritization maps that show how agricultural production goals can be met in a way that minimizes its impacts on species and ecosystem services and offers economic efficiencies of scale.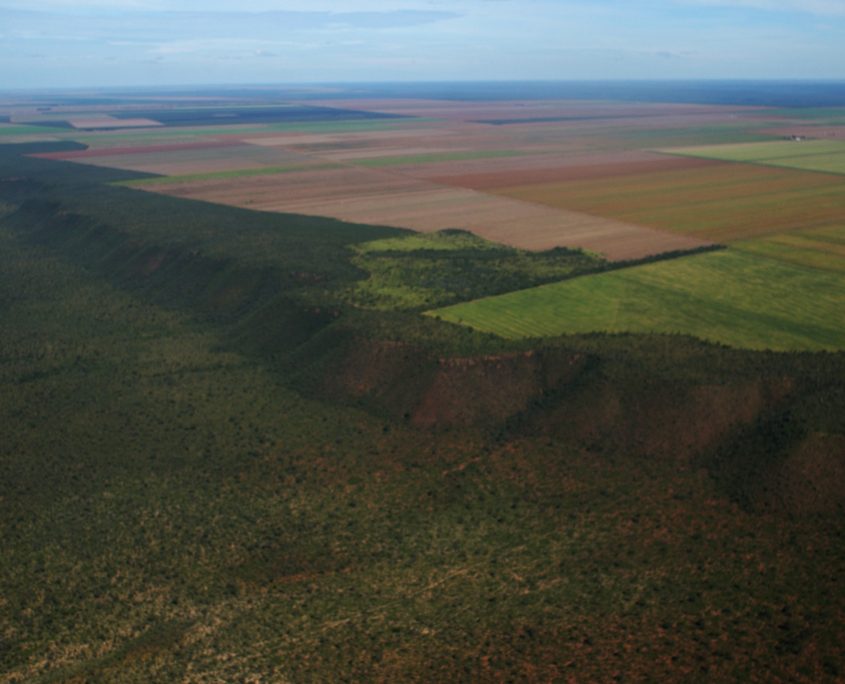 An island of native Cerrado survives as an area of permanent protection under Brazilian law while soy encroaches from all sides. The Conservancy has several projects in the Cerrado, including monitoring and evaluation changes in natural vegetation cover to plan conservation action and address imminent threats. Photo credit: © Gabriel Daldegan
Highly modified regions
One fifth of ecoregions are extensively altered by human activities. These highly modified ecoregions are dominated by dense human settlements, agricultural land uses, networks of infrastructure, and other industrial activities. More than 80 percent of these ecoregions retain 1% or less of low modified (natural) lands, and all fall below habitat thresholds expected to maintain biodiversity over the longterm. In highly modified regions, conservation strategies must restore and connect the few remaining natural areas, as well as manage and improve the dominant, intervening human land uses to minimize their environmental impacts. These are also regions where an important mitigation strategy is restoring the local benefits that natural systems provide to humans, such as nutrient retention, soil fertility, pollination services, and flood mitigation.
TNC works in highly modified regions, such as Central India, where scientists are advancing landscape planning to identify sites for renewable energy projects that avoid or minimize impacts on lands that are important for biodiversity and agriculture while still meeting climate and poverty reduction goals.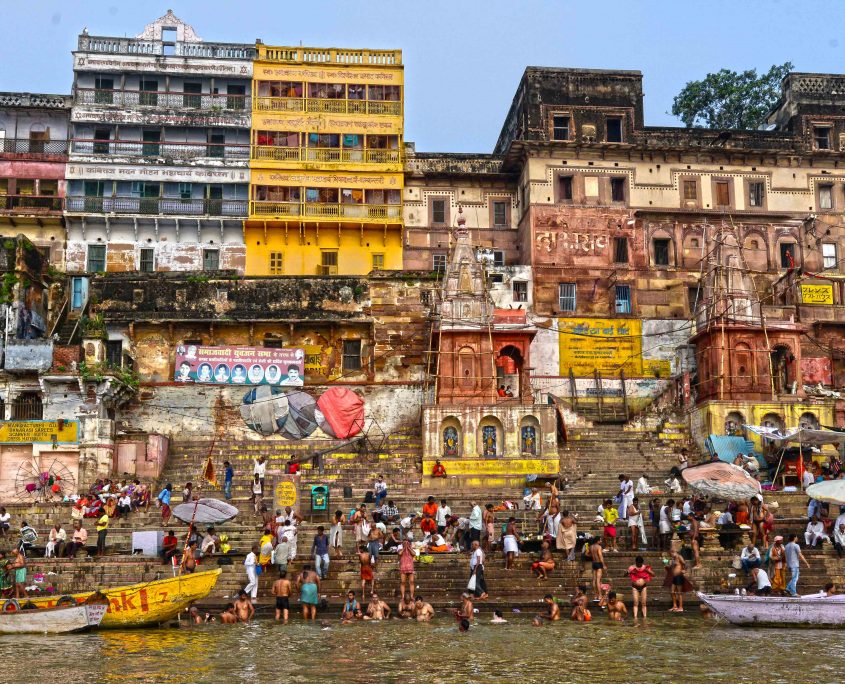 Ganga River flowing through Varanasi, India. Photo credit: ©Joe Kiesecker